Due to recent changes in our installer routine we have received  some reports from users who have problems to uninstall their FSXPilot installations.
Normal way to uninstall FSXPilot
The installer dows not write any registry values, just installs files in FSXPilot program directory. The normal way to uninstall FSXPilot is to choose FSXPilot from the Windows Start menu and select "uninstall". This removes the installation folder. You can also simply delete the folder. 
Entries in the Control panel
Some users with recent FSXPilot installs have experienced entries in the control panel under 'programs and features'. When clicking on those entries for deinstallaton, in some instances there was an error message that the users "did not have sufficient rights' to uninstall the program - although they operated as administrators. The bug is caused by the fact that FSXPilot did not copy a 'uninstall.exe' into the right folder. To uninstall completely, please follow these steps, which are a bit complicated. 
(1) Delete the FSXpilot home directory from your harddrive by hand. As said before, no registry values are written by FSXPilot at any time. 
(2) To get rid of the FSXPilot entry in 'Programs and Features' in your control panel, please open an elevated command shell (start shell as administrator) and open the registry editor 'regedt32.exe'. 
Search the term 'FSXPilot' in the registry until you find this uninstall entry: 

Click 'Unistall string' and change '0\Program Files...' to 'C:\Program Files...'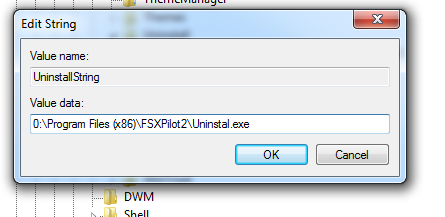 Click OK and close the registry editor. 
Double click the FSXPilot entry in the Control Panel again. Choose 'remove from list' to get rid of the entry now.