FSXPilot for android for your phone / tablet is now available !
FSXPilot for PC must be installed on your flightsim computer. Both systems (phone / tablet and computer) connected to your local WLAN.
After that, many goodies !
Monitor aircraft parameters and the exact position of your aircraft on a versatile GoogleMap (four available map modes) while running Microsoft Flight Simulator X or Lockheed Martin's Prepar3D. "Follow plane" (in menu) will keep the plane in map center and move the map accordingly. "Unfollow plane" (in menu)  any time and explore the surrounding landscape, cities and airports. Under "Options": Define your custom map zoomlevels while having groundcontact, beeing airborne or during "Follow Plane" mode.    
Plan your local or intercontinental flights 'on the fly' by simply tapping waypoints onto your phone or tablet screen. This app will send the latitude and longitude of your waypoints directly to your local FSXPilot server, which will precisely turn your aircraft into the new headings and execute all other necessary or wanted commands.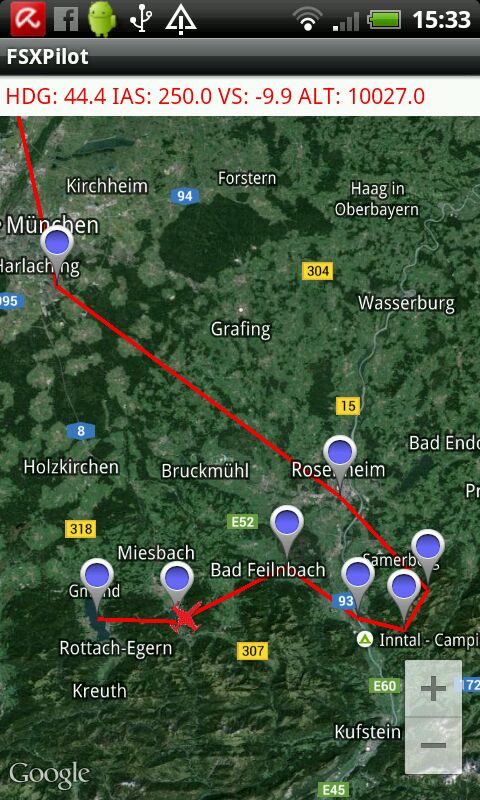 During your flight, observe basic flight parameters and send commands for changing indicated airspeed, taxi speeds, flight level (altitude), aircraft heading or target selection from thousands of FSXPilot's (PC) AIRAC targets. Initiate automated takeoffs and ILS landings from your phone. Holdings, GPS autolandings and touch and go procedures can be safely performed on almost any airfield worldwide.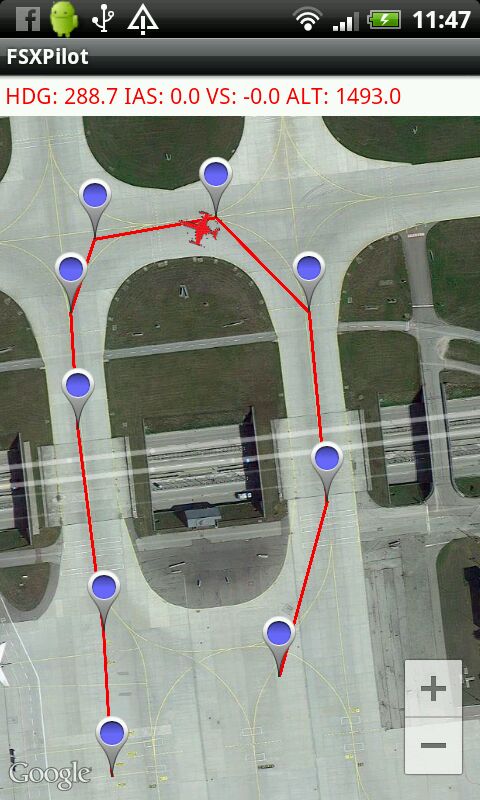 Ground taxi of planes can be difficult. With FSXPilot for Android (and especially P3D) it's  -  great fun. On the app's googlemap, zoom down to runway level and create taxiplans on the fly by simply fingertapping onto the taxiways you want to use. Your plane will follow the taxi directions immediately and even stop at your last taxiwaypoint (usually place this point at your favourite gate or at a runway holding point).
With Lockheed Martin's awesome Prepar3D you will experience the highest level of precision during ground taxi - runways and taxiways in real (as shown on the GoogleMap) and on P3D are almost identical. Unfortunately, the ground model of FSX is less precise, so you need a little learning curve to place your FSX taxiways. 
At gate, stop or restart the engine and initiate a pushback via your phone / tablet.
Switch to helicopter mode on PC and enjoy controlling the heli via your phone. Navigate. Hover or land at a certain positions.
We even implemented an experimental yoke so that you can fly the fixedwings by hand (better said: by phone :-) - land manually, operate flaps, gear and wheelbrakes - live.
As another little extra, the app will automatically pause (enable this under 'Options') FSX or P3D on an incoming phonecall ;-)
Why ?  It is really your phone that drives the waypoint engine and switches between waypoints. Means, that if you do something else on your phone or receive an incoming call your procedure is stopped at the last active waypoint. 
So leave your flightsim computer alone for hours  - sit down for a talk with your friend / husband / wife - and use your phone or tablet as your new clever control device !
Charges: 
For a limited period this app will be available free of charge. So download today !
A working installation of Flight Simulator X (FS9 and X-Plane not supported) or Prepar3D, computer connected to your WLAN
FSXPilot for PC (freeware)
Your android phone or tablet connected to your WLAN
Installation and first run:
Please download and install version > 1.40 of the PC software. 
Start FSX or P3D and load a flight. 
Start the PC version of FSXPilot on your flightsim computer.
Watch the command input box of FSXPilot (PC): The IP address and port of the server are displayed.
Download and install the android app and enter the IP address and server port (once) under 'Options' (press the menu button on your phone to find 'Options'). 
Press 'connect' on the phones main app screen.
If you cannot connect, please check (on the phone) IP address and port number again. 
On the computer, make sure that FSXPilot runs in administrator mode and your firewall does not block the FSXPilot server port (27015). If you are not sure how to do that, please ask google or consult your firewall / antivirus manual. For a  test, you could initially try to start the programs with firewall switched off. 
Q: Pressing the 'send command' button in the android app without a command in the textbox crashes FSXPilot server. Help ! 
A. Yes, sorry for that. It is a bug.Will be removed in the next update. Until then: Please always enter a command before you press the button.
Q: Will there be a version for the iphone ? 
A. Probably not. We are android guys. There is one option, though: Send us a Macbook Pro, then we'll see ....
Q: Why are you talking about servers and clients ? 
A. It was difficult to make the android application "talk" to FSX or P3D directly. Much better and easier to talk to a third person - the local FSXPilot server installed on your flightsim computer. That program we call the 'server'. Your android phone is the 'client'.  Expensive tasks will be performed on the server, input thingies on your phone or tablet. In the end, the server talks to FSX / P3D and moves the rudders. 
Q: Why is FSXPilot for android far superior to the other android flightsim apps available  ? 
A. Compared to the other apps - FSXPilot is much more than a moving map. Of course it can display your aircraft's position with highest precision - but if you start to interact with the screen, the app unfoldes the complete power of the FSXPilot project by making the appropriate turns into the waypoints. And - Is there an app published that can initiate a GPS landing on almost any airfield of the world ? probably not !
Q: Can I use that outside of my local WLAN (over the Internet) ?  
Q: Do you support X-Plane ?   
Q: Is FSXPilot for android compatibel with my device ?   
A. Probably yes. Much care was taken to support old devices. We believe FSXPilot for android is a wonderful application to reactivate your old android phone. So - d
evices with Android >= V 2.2 (Froyo) can be used.  Lowest version we did tests on was 2.45 (Gingerbread).
Q: What happens if the screensaver on my device becomes activated ?   
A. FSXPilot for android goes to the background and phone waypoint following will be stopped. FSXPilot app does not act as an android service yet.  Please disable your screensaver when you use FSXPilor for android on longer flights.
Q: What happens when FSXPilot for PC is running a flightplan and the android app is started ?    
A. Nothing really bad, just do it.  Most commands on the phone that can interfere with your running flightplan are deactivated and become only active again if the flightplan (or tracking: GPS autoland) gets finished. The app is excellent for monitoring the progress of a FSXPilot (PC) flightplan.  
Q: Can I make phonecalls when I use your app  ?  
A.  Yes. However, the waypoint following will be stopped. If brought back to the front, FSXPilot for android will reconnect to the server and the games can go on. 
Q: Help. I use your app for ground taxi, but the plane is not following the right taxiways on FSX.   
A.  Yes, sadly this is a known issue. FSXPilot on android has one of the best references available: The real world on Google Map. So what you see on the app is exactly what you would see if flying/taxiing in real. The problem is that FSX is not correct in placment of many taxiways. You can overcome this by - practising. After some time you will "know" the correct taxiways in relation the real world display in the app and can produce quite exact results. Better: Switch to P3D. The guys at Lockheed Martin did an great job in reproducing the world much more realistic. Especially taxiways do match to real world in almost all cases we tried. In this respect it seems that X-Plane is also better than FSX.