Windows comes with it's own speech recognition and text-to-speech system.
Not before long we took advantage of that and gave your favorite copilot ears and a voice. We soon fell in love with the US English standard voice. On this website, we usually call her --- Anna. 
But what (HORROR !) if you buy a new computer in China and cannot hear Anna any longer ?
It is very important to choose the right language pack and  text-to-speech voice. 
On a Chinese computer, the use of FSX and FSXPilot with speech output will generate commands that are not much more than English words with Chinese accent. Speech recognition will miserably fail. 
But do not despair. We have the following Method for you: 
METHOD
Download and install a US English language pack for your windows version. 
A nice description on how to do that with Windows 10 can, for example, be found under this link:
http://www.laptopmag.com/articles/change-cortanas-voice-windows-10
Very important: For download of speech language packs you should use an UNMETERED internet connection, otherwise the download, although small, WILL FAIL. 
If you have an older windows, please google how to do that.
Usually you must restart your computer with the new language packs.  
Then: 
Start FSX
Start FSXPilot
Enable Speech output and speech recognition in 'General Options' (FSXPilot AP panel)
Restart FSXPilot
Now you should see the the speech recognition panel (panel with microphone on it, see below) on your screen. 
Right click to the panel and select Configuration -> Open speech recognition control panel. 
On that panel, go to "Advanced Speech options" and select Microsoft Speech recognizer ENGLISH here
Then, go to "Text to Speech" options and select "Anna" or an English speaking guy here.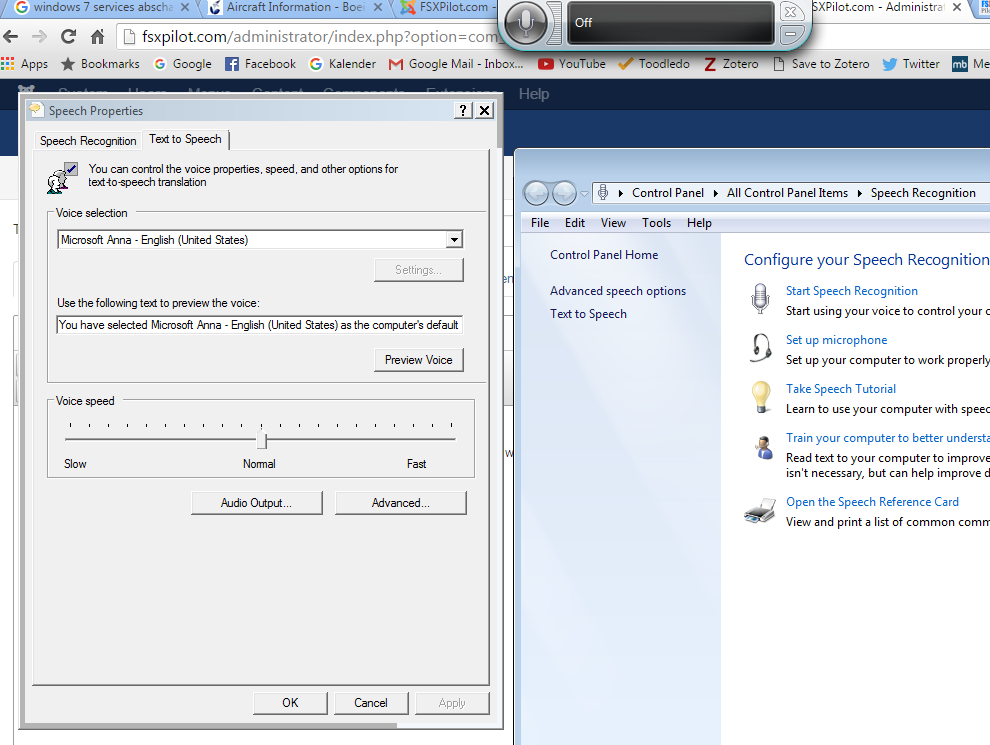 After that, enjoy non-mandarin speech output and recognition.